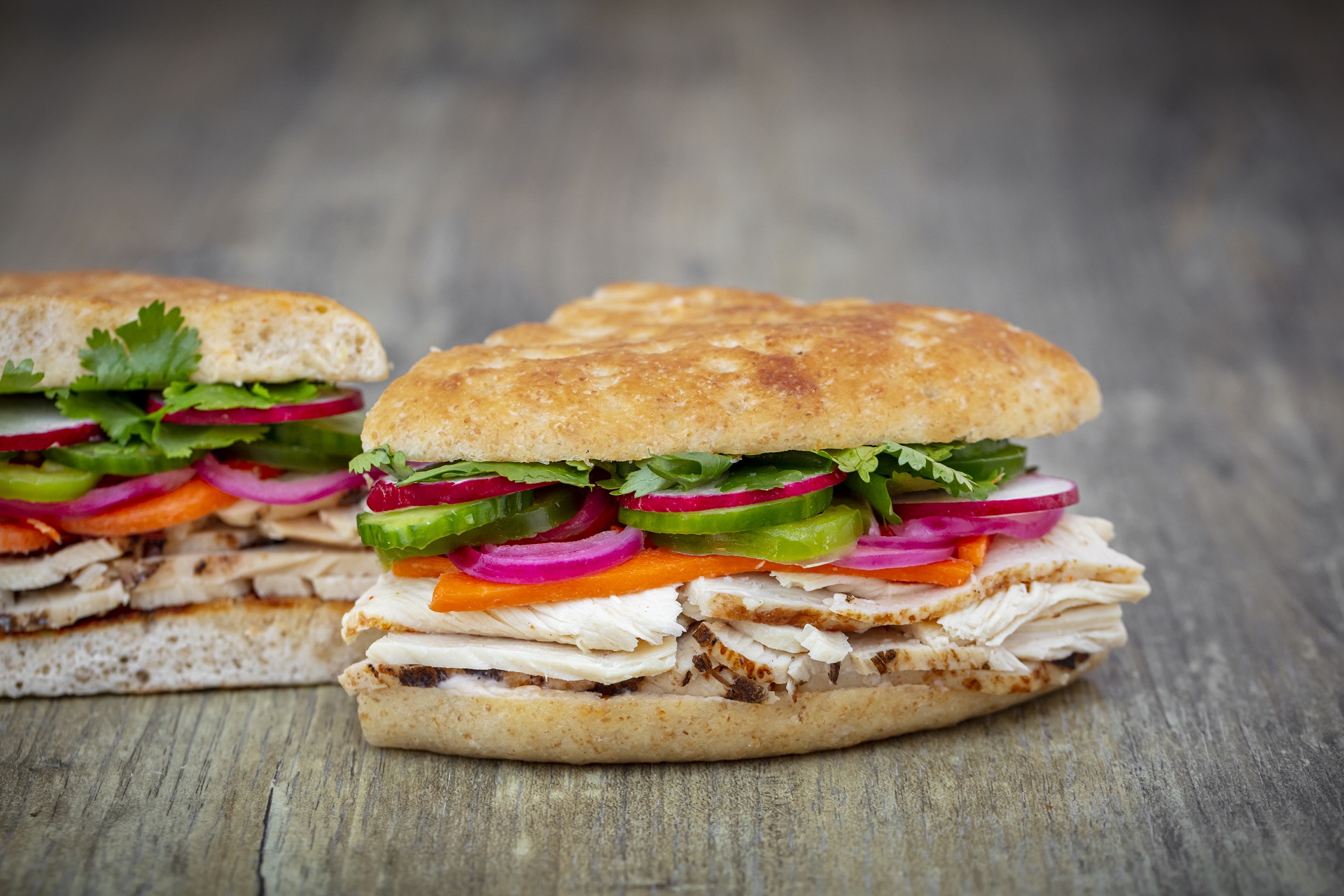 Menu
Specials
All Sandwiches Served with Urbane House Side Salad
Chicken and Turkey are All Natural and No Added Hormones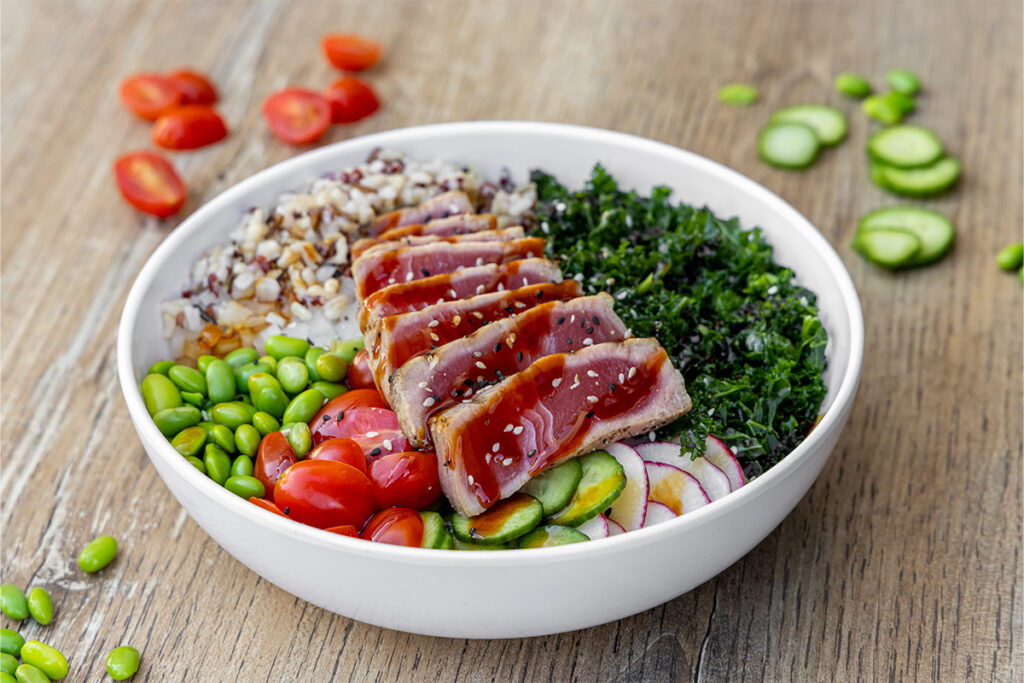 Seared Ahi Tuna Bowl
sashimi grade ahi tuna, mixed whole grain rice, marinated kale, edamame, cucumbers, red radish, grape tomatoes, pickled white radish, sesame seeds. Served with creamy ponzu and sushi sauce drizzle
Sandwiches
All Sandwiches Served with Urbane House Side Salad
Chicken and Turkey are All Natural and No Added Hormones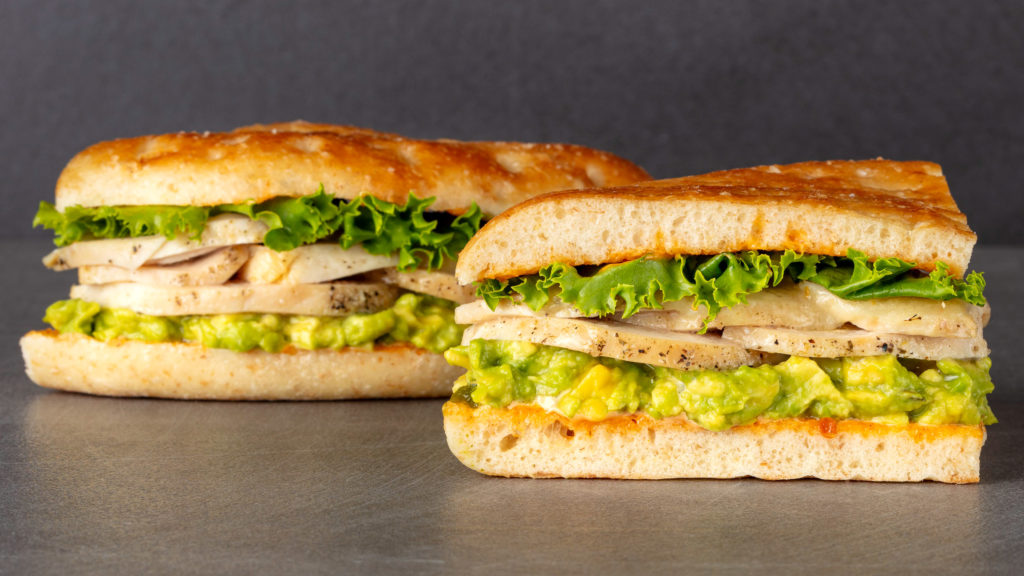 So Cal
roasted chicken, avocado, pepper jack cheese, green leaf lettuce, tomatillo salsa, chipotle aioli
UC Banh Mi
roasted chicken, red radishes, cucumbers, jalapenos, pickled carrots & onions, cilantro, sweet chili aioli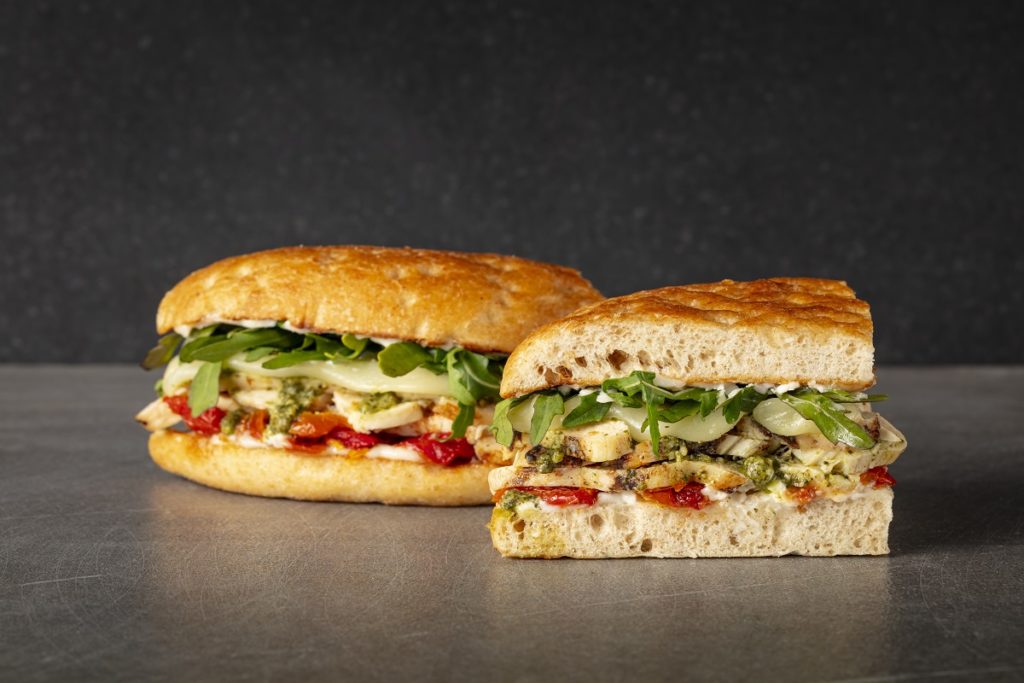 Pesto & Sundried Tomato
roasted chicken, basil pesto, sundried tomatoes, mozzarella cheese, arugula, vegenaise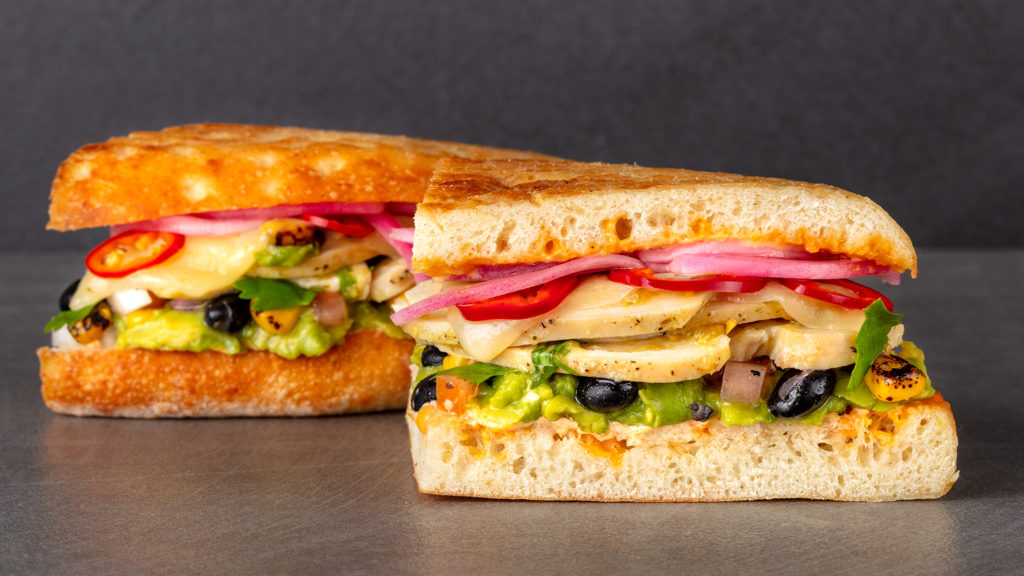 Cilantro Torta
marinated cilantro chicken, avocado, corn & black bean salsa, tomatillo salsa, pepper jack cheese, fresno chilis, pickled onions, chipotle aioli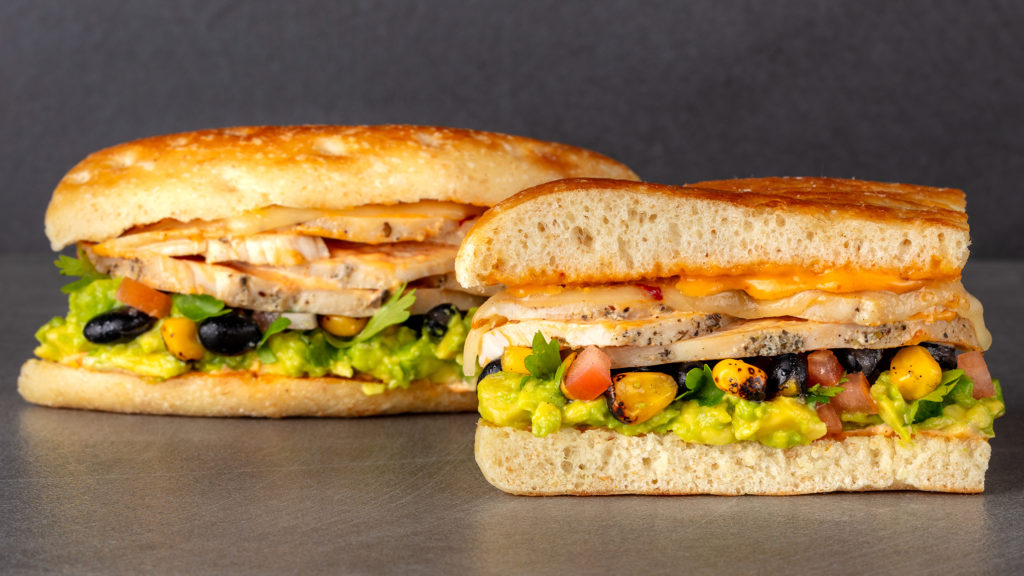 Southwest
marinated southwest chicken, avocado, corn & black bean salsa, pepper jack cheese, chipotle aioli
Mediterranean Chicken
roasted chicken, garlic roasted red pepper hummus, green leaf lettuce, tomato cucumber salsa, pickled onions, feta cheese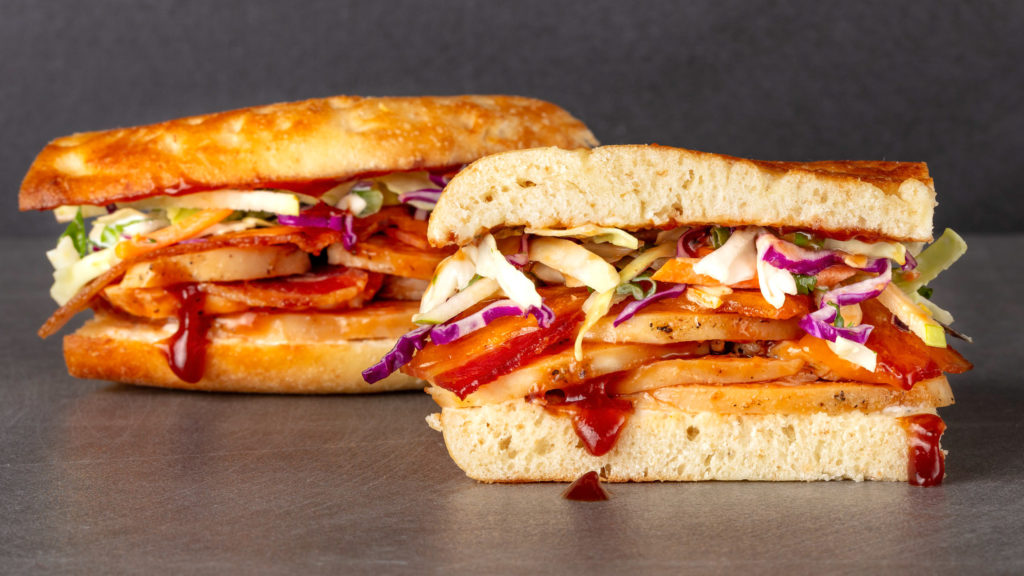 Santa Maria BBQ
marinated BBQ chicken, Applewood-smoked bacon, cheddar cheese, housemade apple coleslaw, ranch dressing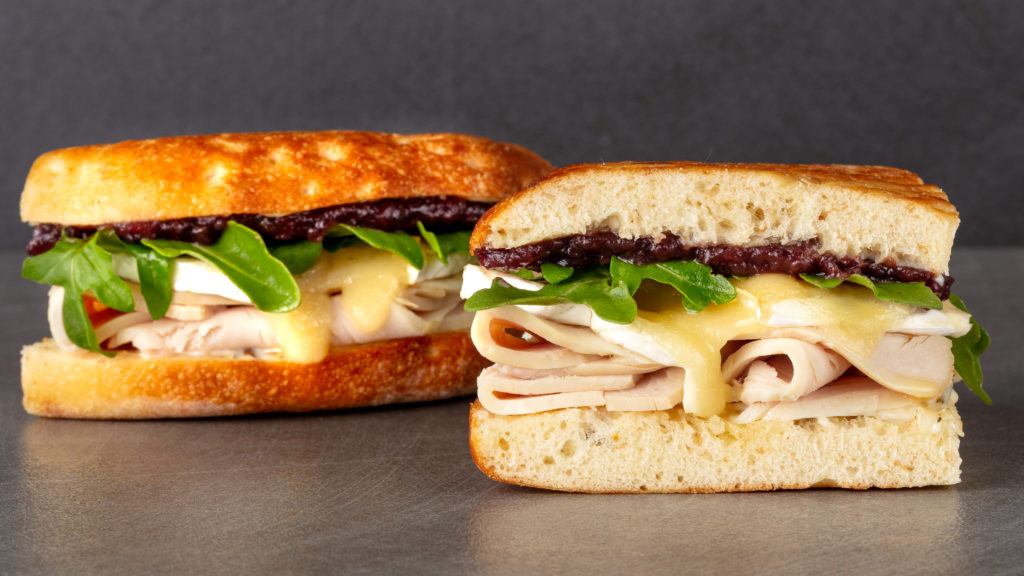 Cranberry Brie
roasted turkey, French brie, housemade cranberry chutney, arugula, herb aioli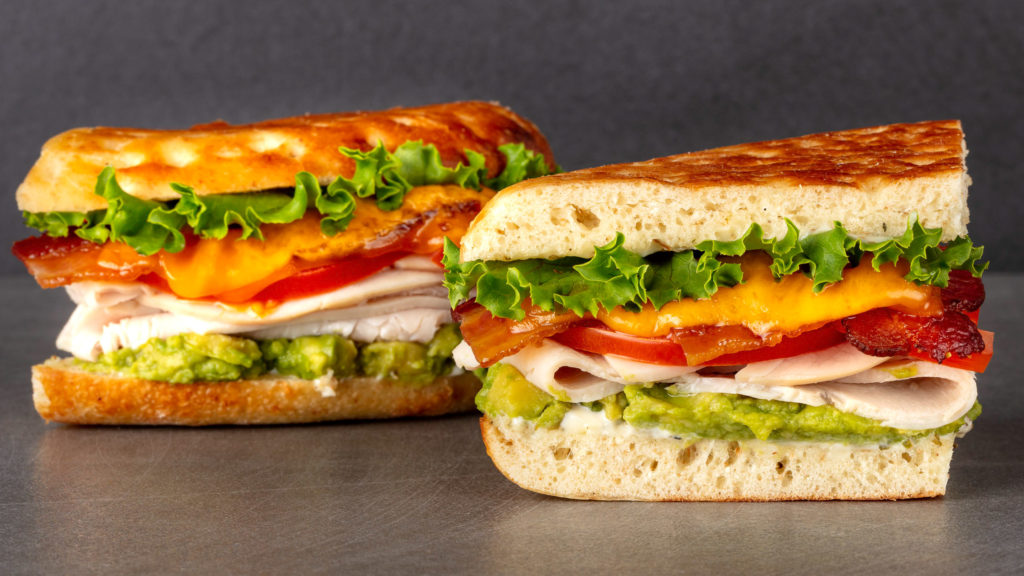 Club
roasted turkey, Applewood-smoked bacon, avocado, cheddar cheese, sliced tomato, green leaf lettuce, herb aioli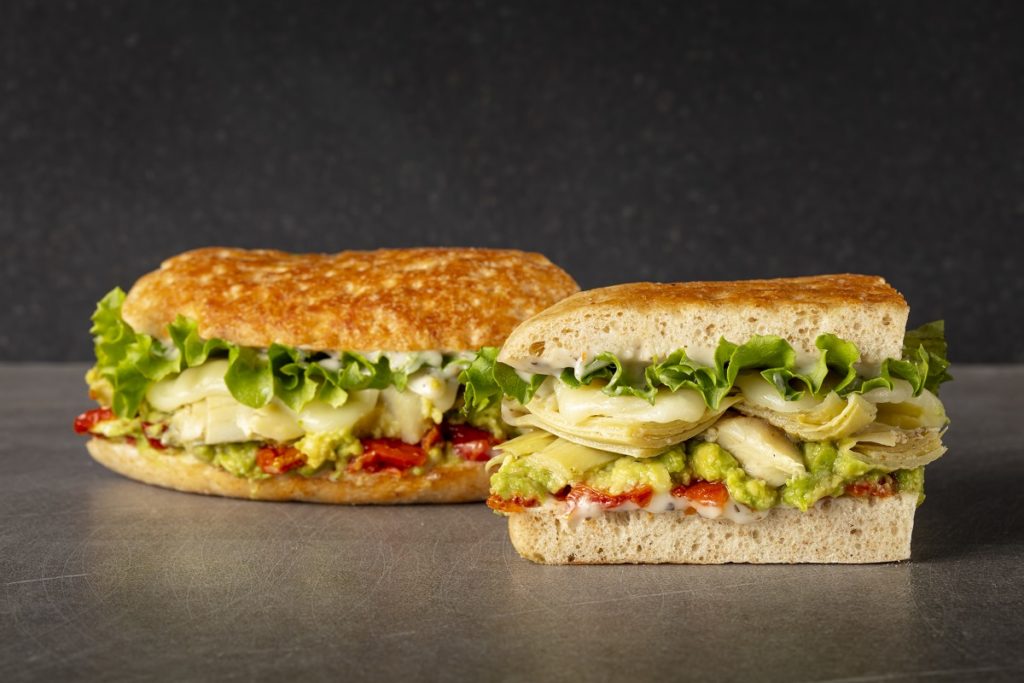 The Californian
house marinated artichoke hearts, avocado, sundried tomatoes, mozzarella cheese, green leaf lettuce, herb aioli
Tofu Banh Mi
roasted tofu, red radishes, cucumbers, jalapenos, pickled carrots & onions, cilantro, sweet chili aioli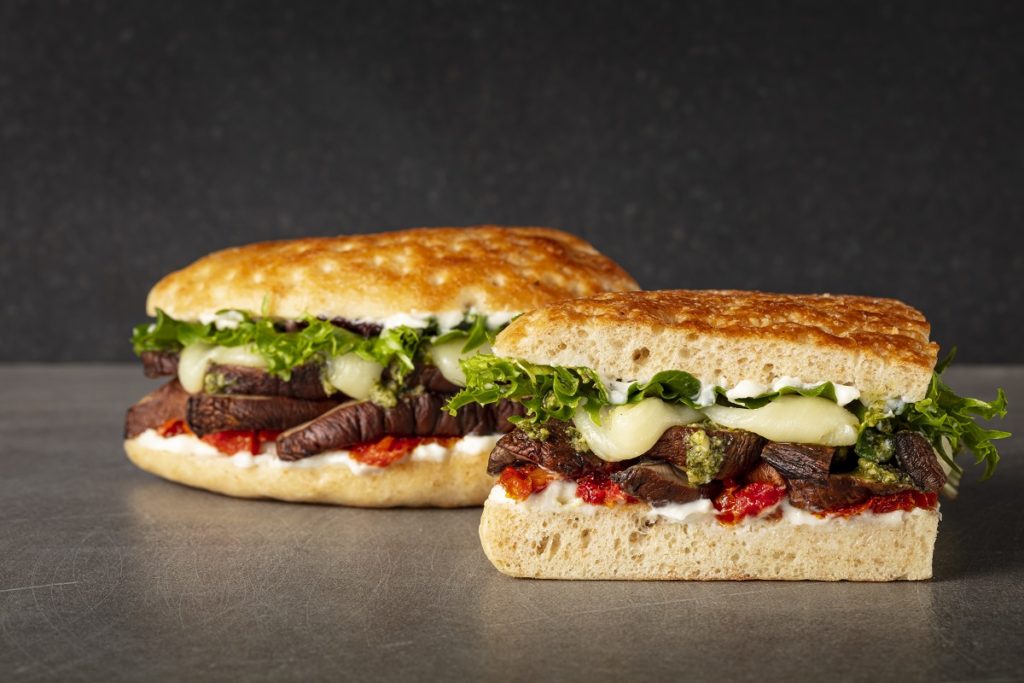 Bella Portobello
marinated portobello mushroom, mozzarella cheese, sundried tomatoes, basil pesto, vegenaise, mixed greens with balsamic dressing
Gourmet Grilled Cheese
cheddar, gorgonzola & pepper jack cheeses, avocado, tomatillo salsa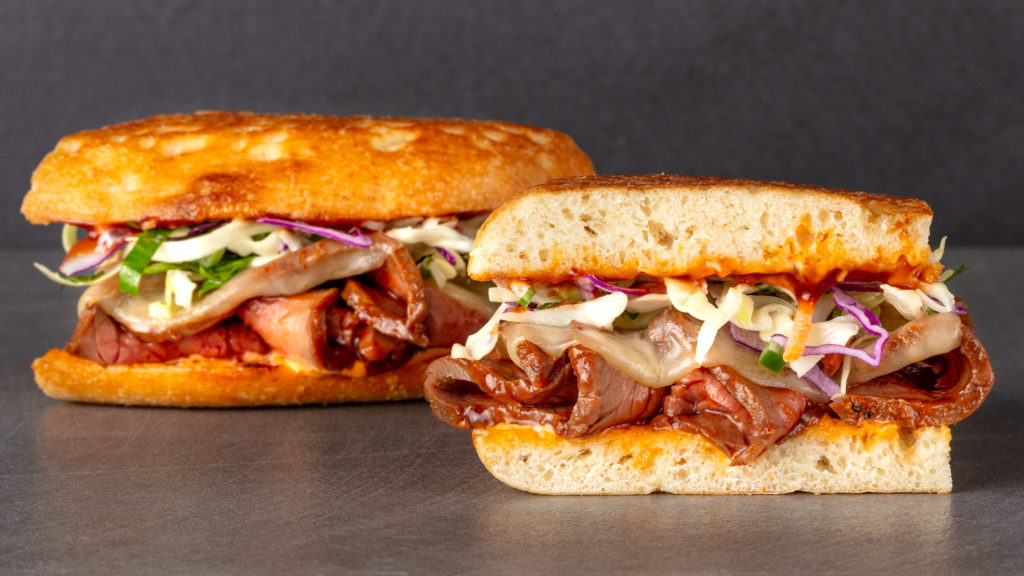 BBQ Tri Tip
marinated BBQ tri tip steak, pepper jack cheese, housemade apple coleslaw, chipotle aioli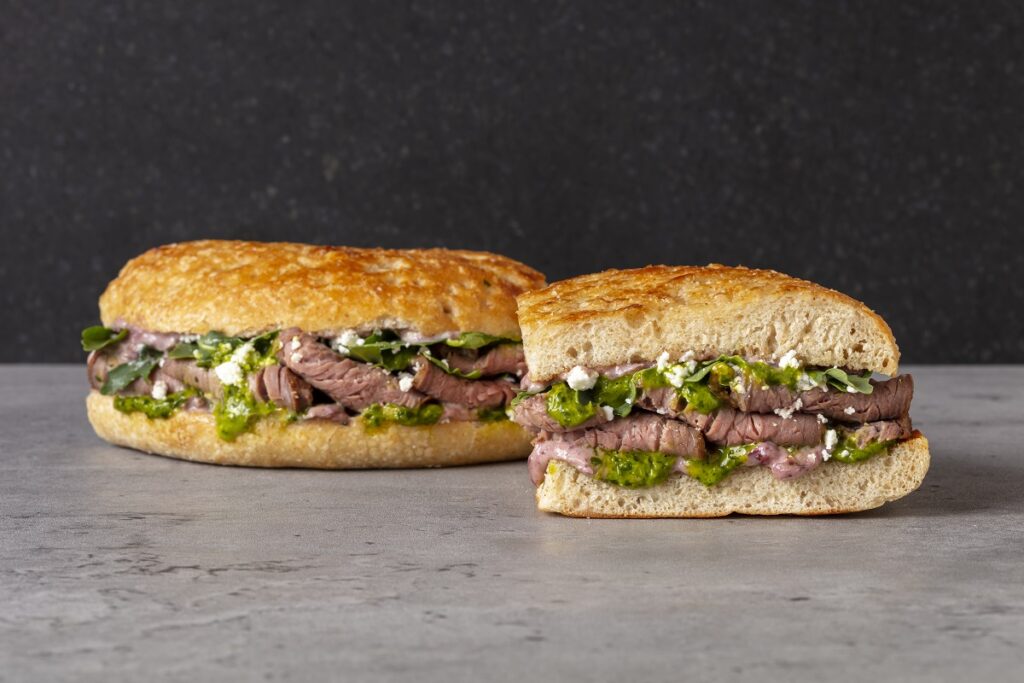 Chimichurri Steak
tri tip steak, housemade chimichurri sauce, feta, arugula, cranberry chutney aioli
Salads
All Salads Served with Fresh Baked Bread
Chicken and Turkey are All Natural and No Added Hormones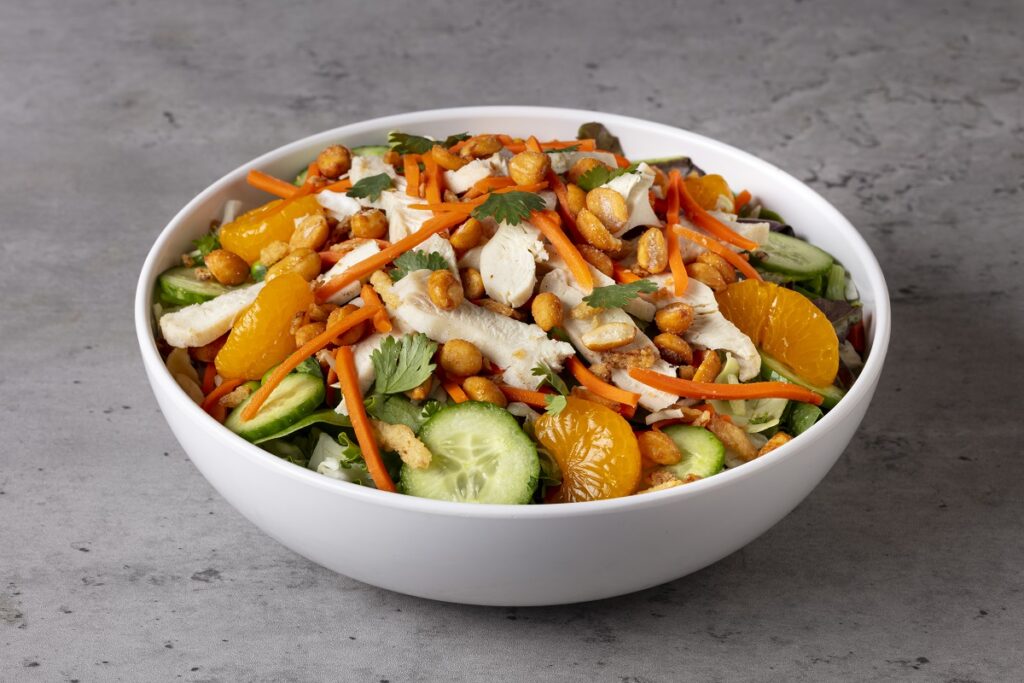 Crunchy Peanut Salad
marinated cilantro chicken, mixed greens, coleslaw mix, cucumbers, pickled carrots, edamame, mandarin oranges, crispy onions, honey roasted peanuts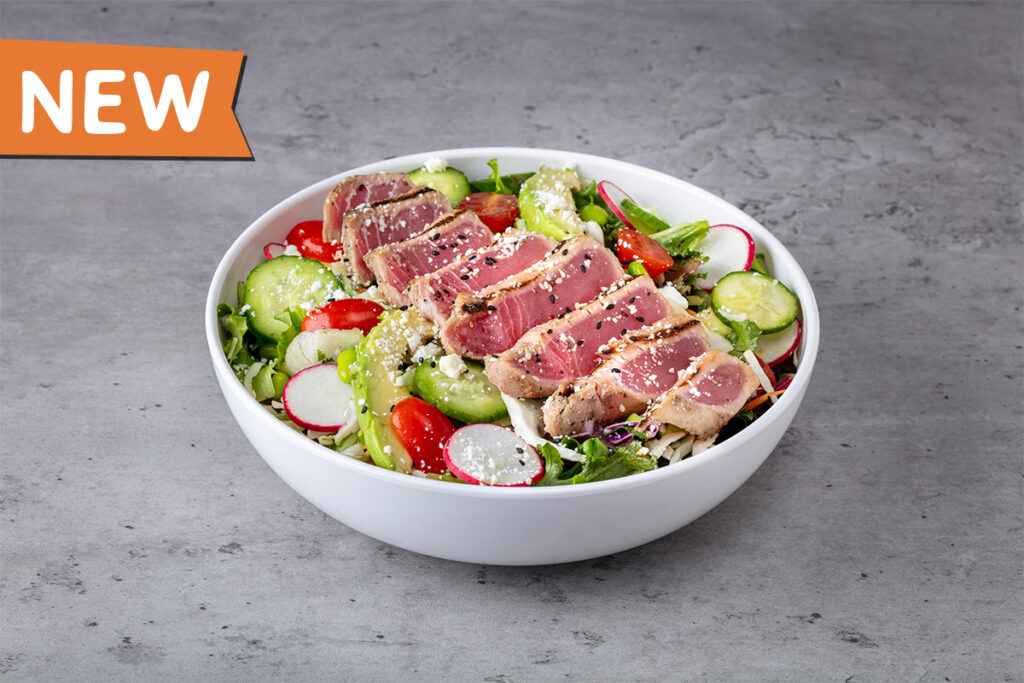 The Ahi
sashimi grade seared ahi, mixed greens, coleslaw mix, avocado, feta cheese, edamame, cucumbers, red radishes, grape tomatoes, sesame seeds. Served with japanese chili dressing and fresh baked focaccia bread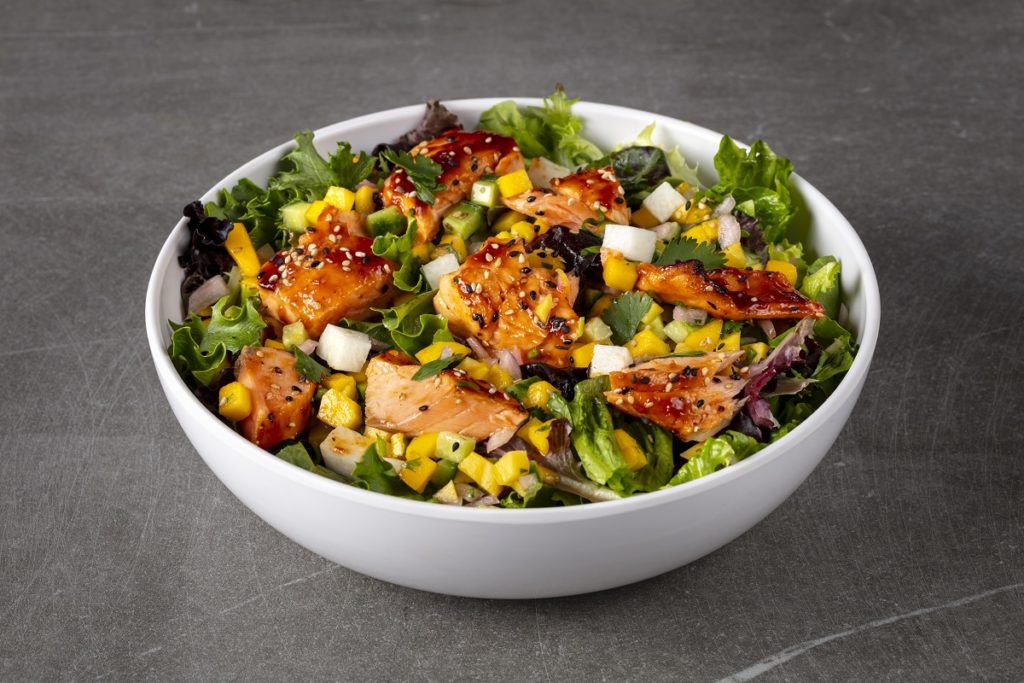 Salmon Salad
glazed salmon, chopped salad mix, mixed greens, edamame, diced jicama, mango salsa, sesame seeds. Served with chipotle ranch dressing and fresh baked focaccia bread
Cilantro Chicken
marinated cilantro chicken, chopped salad mix, avocado, corn & black bean salsa, mozzarella cheese. Served with cilantro vinaigrette dressing and fresh baked focaccia bread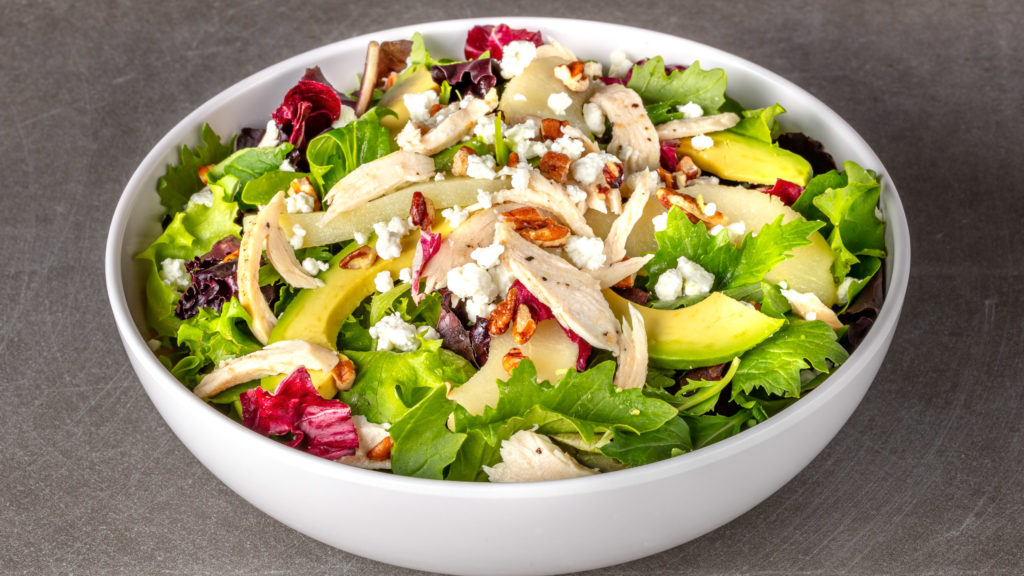 The Cafe
roasted chicken, mixed greens, avocado, crumbled goat cheese, pears, pecans. Served with balsamic vinaigrette dressing and fresh baked focaccia bread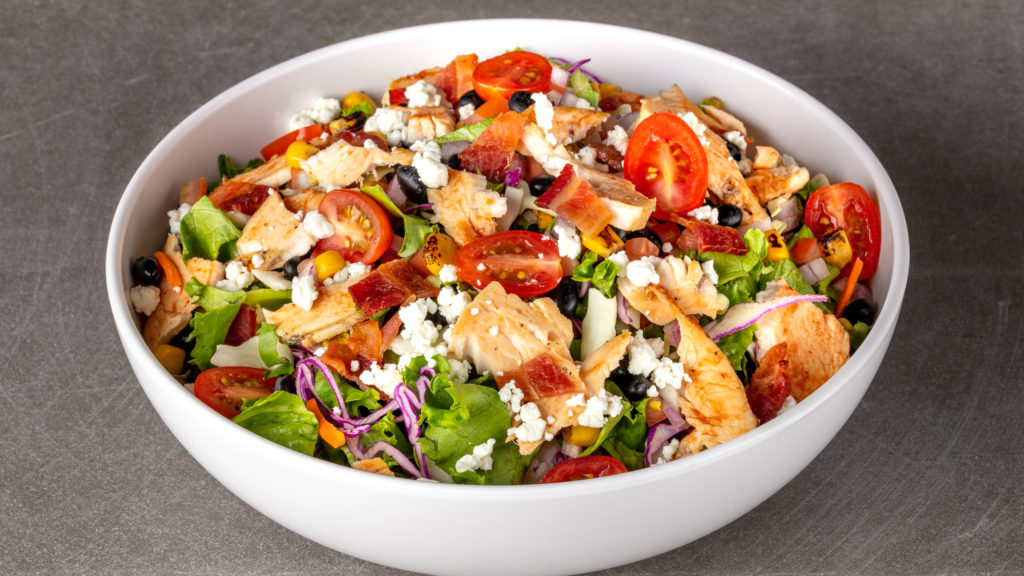 Santa Maria BBQ Chicken
roasted BBQ chicken, chopped salad mix, coleslaw mix, Applewood-smoked bacon, crumbled goat cheese, corn & black bean salsa, grape tomatoes, blackberry BBQ sauce drizzle. Served with chipotle ranch dressing and fresh baked focaccia bread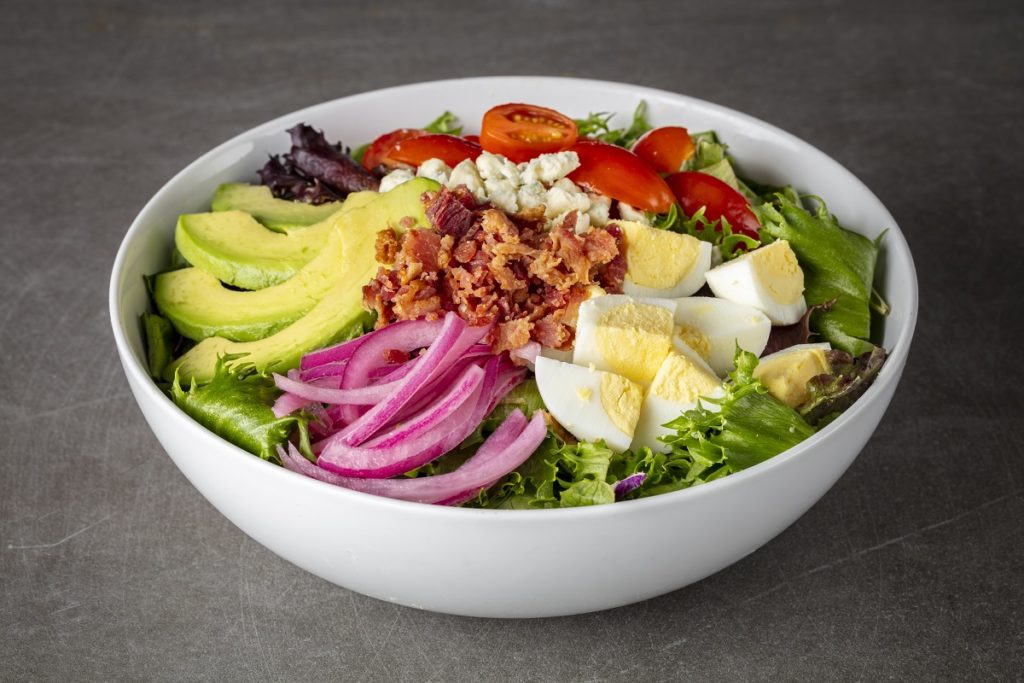 Keto Cobb
chopped salad mix, mixed greens, avocado, eggs, grape tomatoes, pickled onions, blue cheese crumbles, Applewood-smoked bacon. Served with keto blue cheese dressing and fresh baked focaccia bread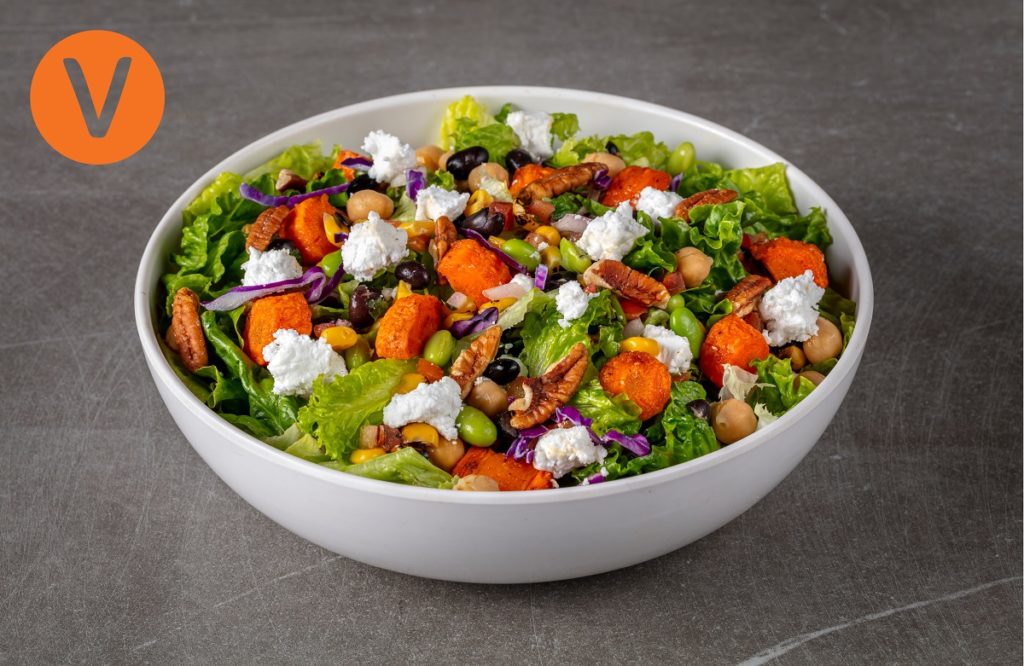 Power Veggie
chopped salad mix, corn & black bean salsa, Follow Your Heart feta cheese , pecans, garbanzo beans, edamame, roasted sweet potatoes. Served with balsamic vinaigrette dressing and fresh baked focaccia bread
Bowls
Served with Fresh Baked Focaccia Bread Upon Request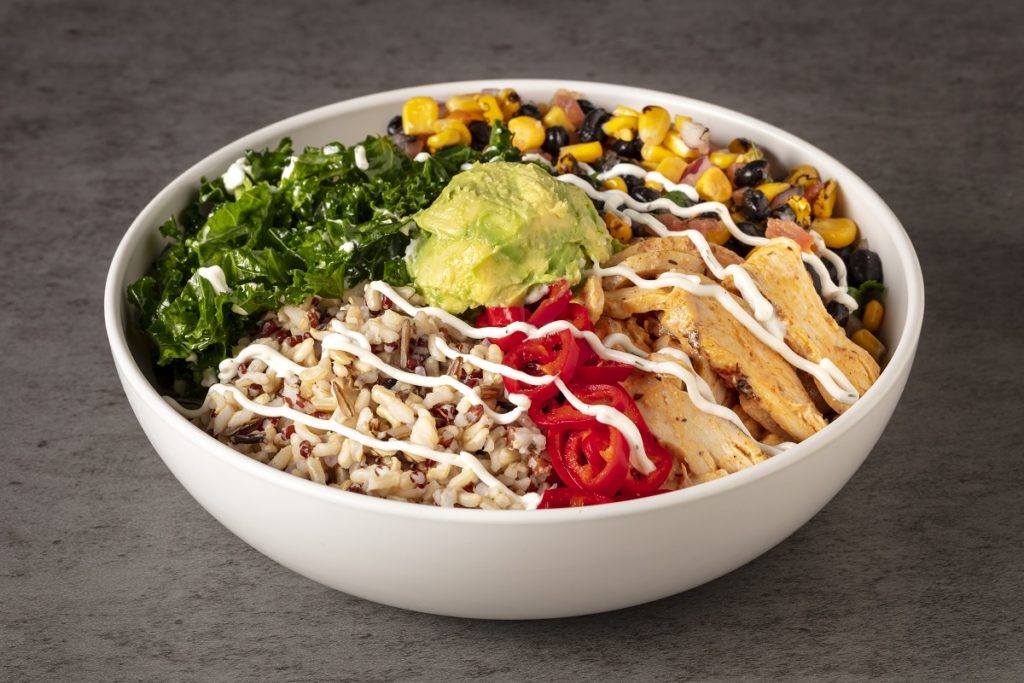 Baja Bowl
marinated southwest chicken, mixed whole grain rice, marinated kale, corn & black bean salsa, fresno chilis, avocado, ranch & cilantro vinaigrette drizzle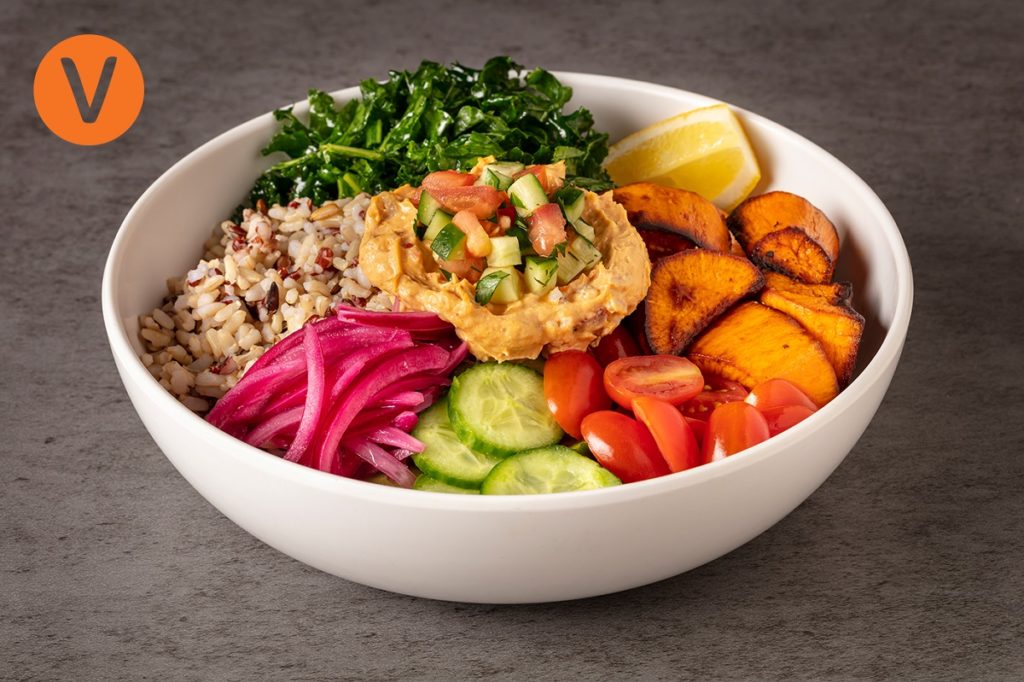 Mediterranean Bowl
mixed whole grain rice, marinated kale, roasted sweet potatoes, tomatoes, cucumbers, pickled onions, garlic roasted red pepper hummus, tomato cucumber salsa & lemon wedge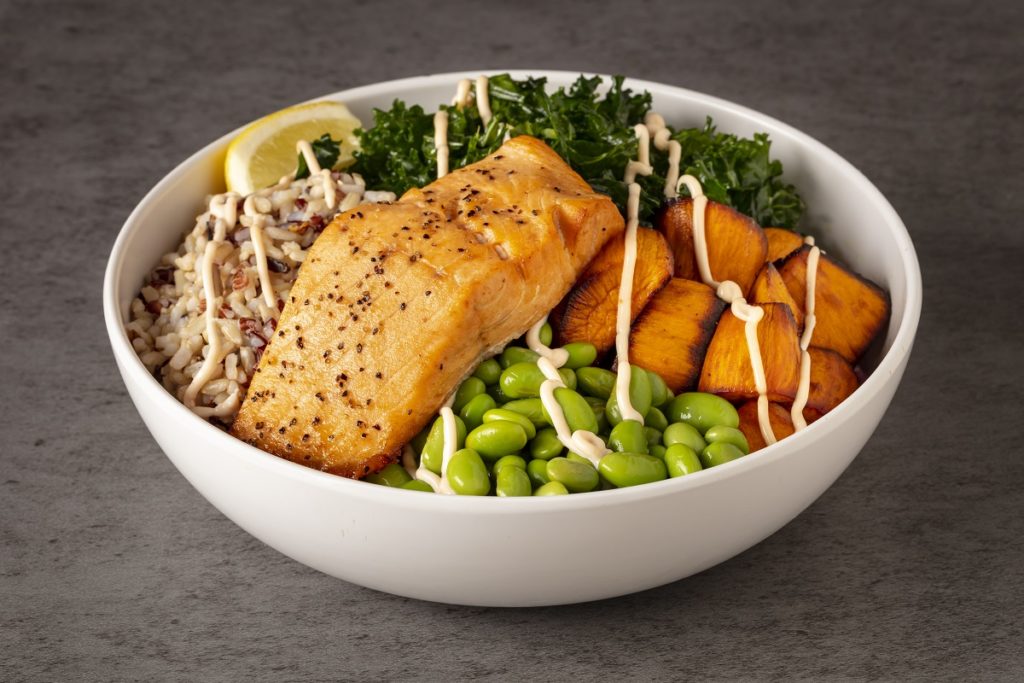 Salmon Bowl
glazed salmon, mixed whole grain rice, marinated kale, roasted sweet potatoes, edamame, lemon wedge & sweet chili aioli drizzle
Soups
Served with Fresh Baked Focaccia Bread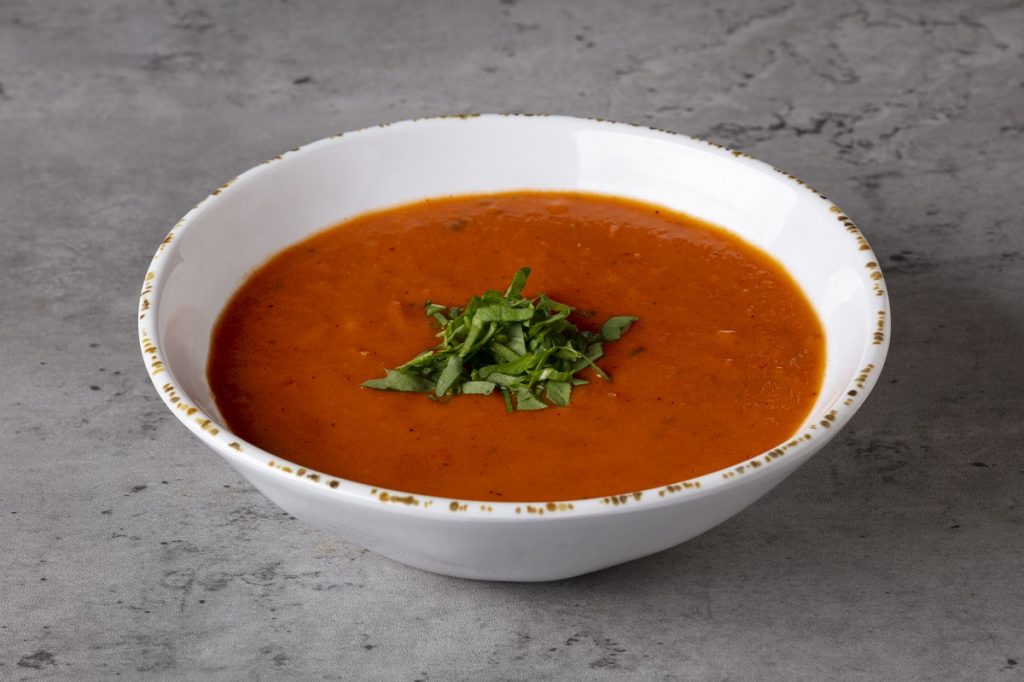 Soup of the Day
cup or bowl of soup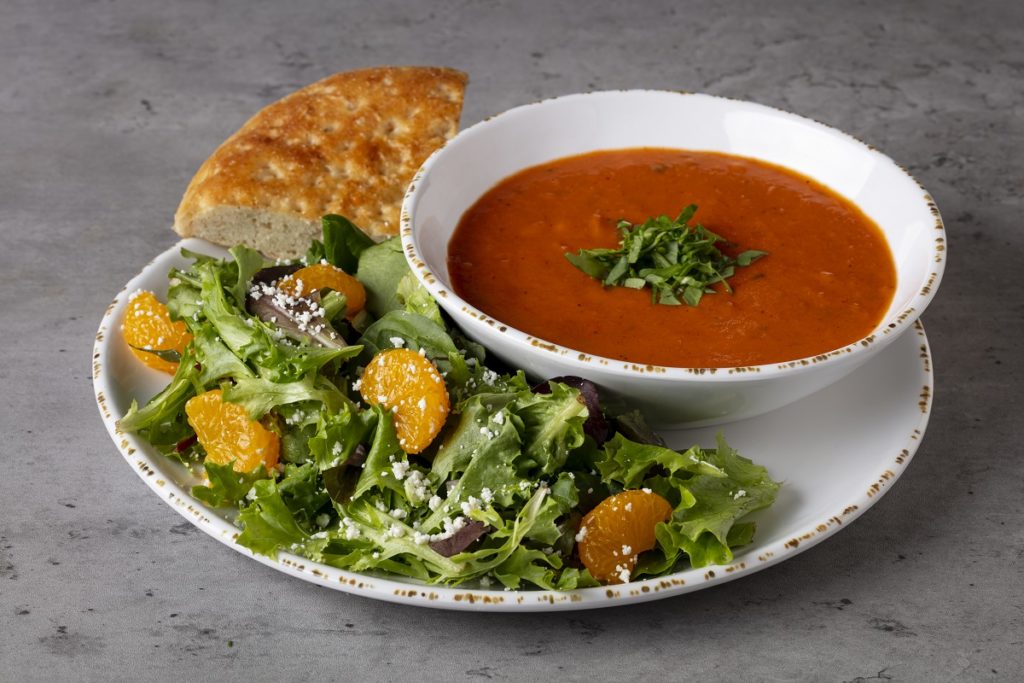 Soup of the Day + Side Salad
bowl of soup served with house side salad with balsamic vinaigrette
Kids' Cafe
Includes House Side Salad, Chips, or Fruit
Turkey Sandwich
roasted turkey, cheddar cheese, sliced tomato, green leaf lettuce, mayo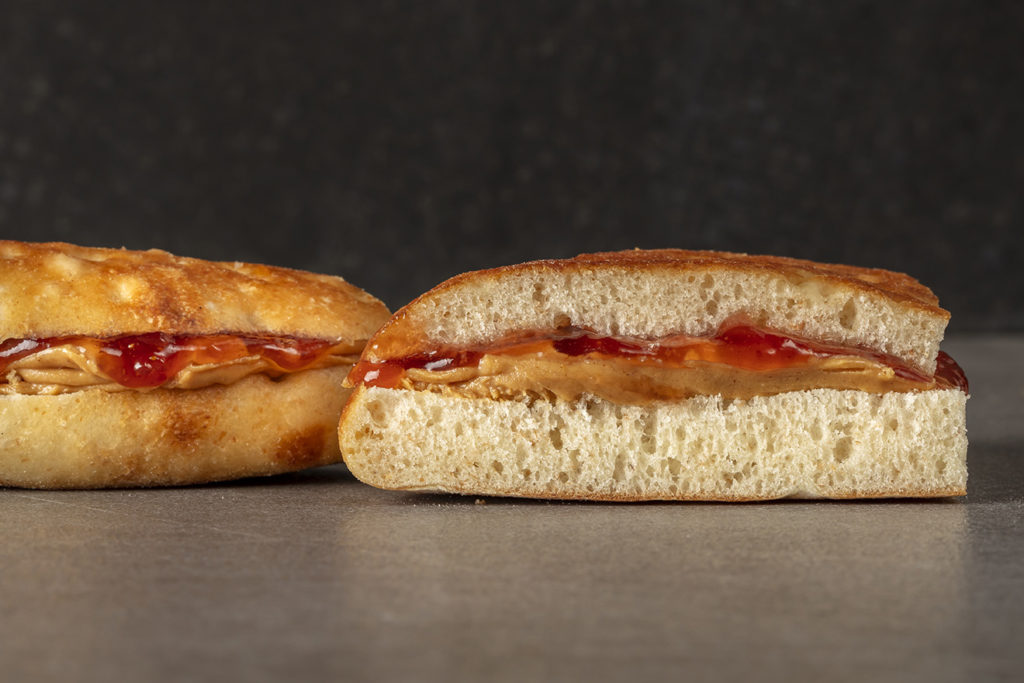 PB&J Sandwich
peanut butter & jelly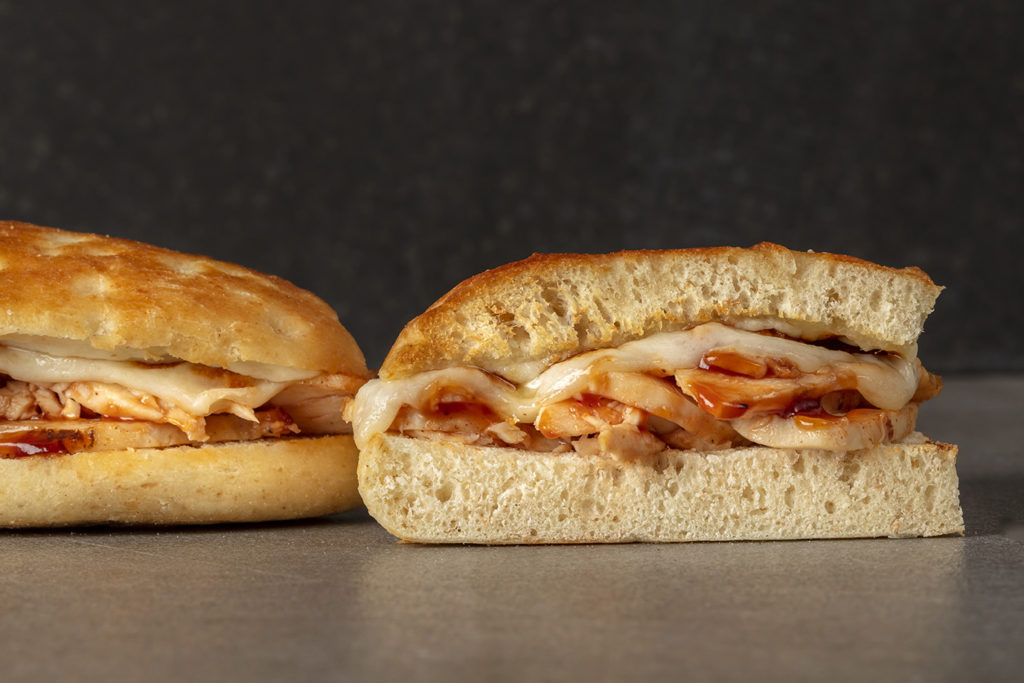 The Ben
bbq chicken and mozzarella cheese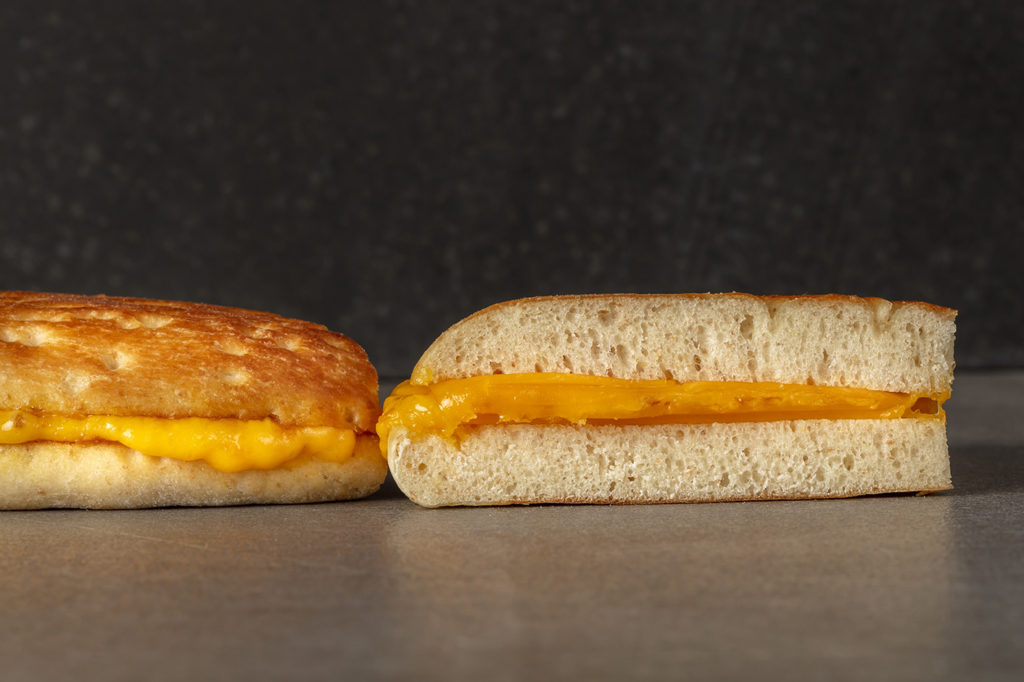 Grilled Cheddar Cheese Sandwich
cheddar cheese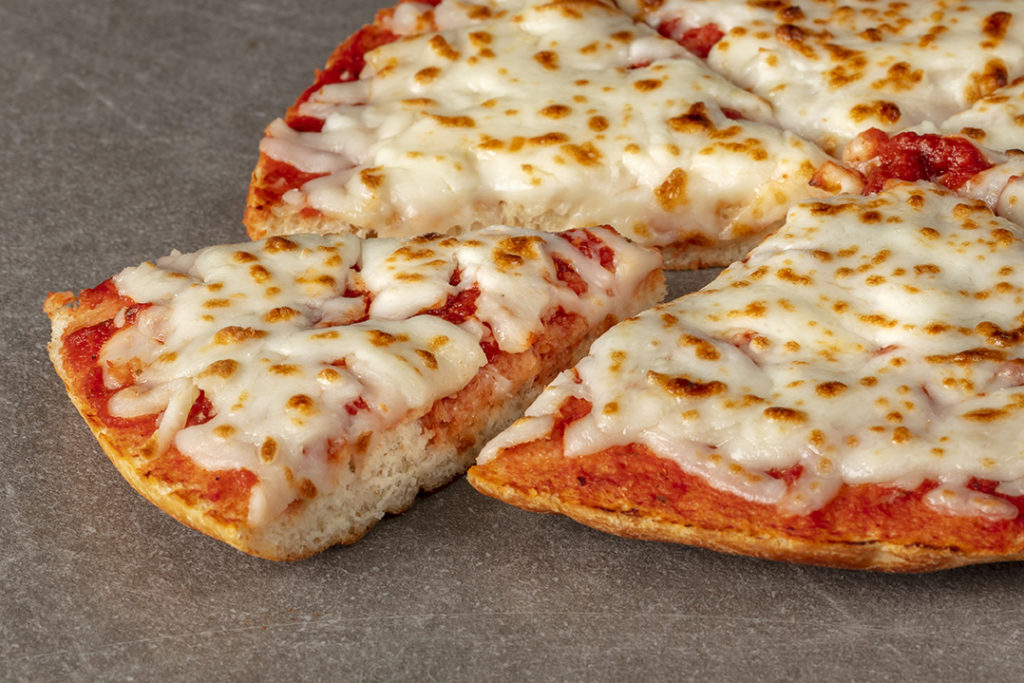 Cheese Pizza
mozzarella cheese, tomato sauce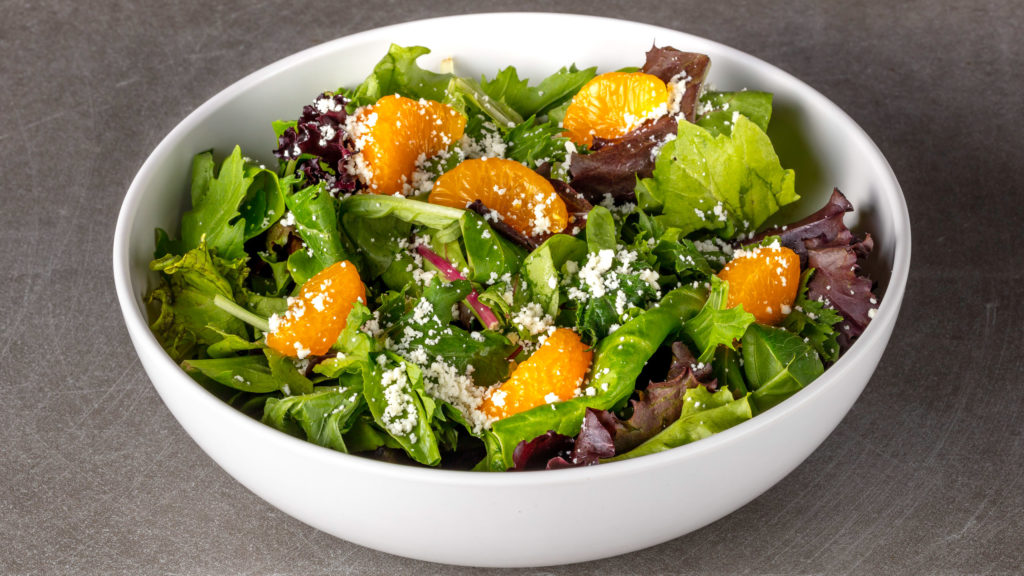 House Side Salad
• add chicken • add tri tip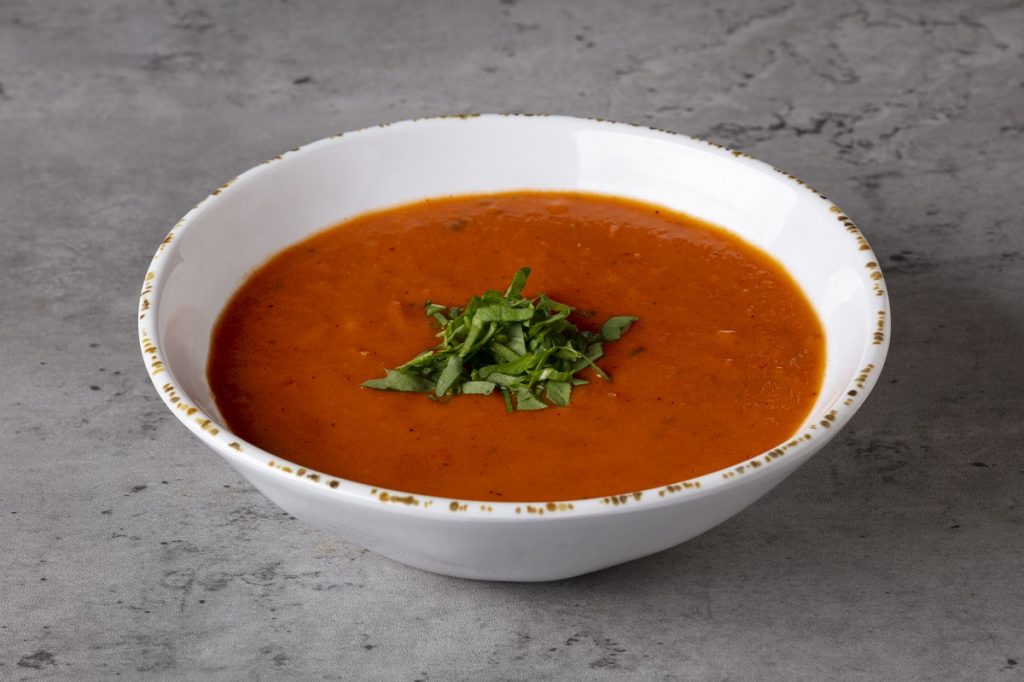 Substitute Soup for Salad
cup or bowl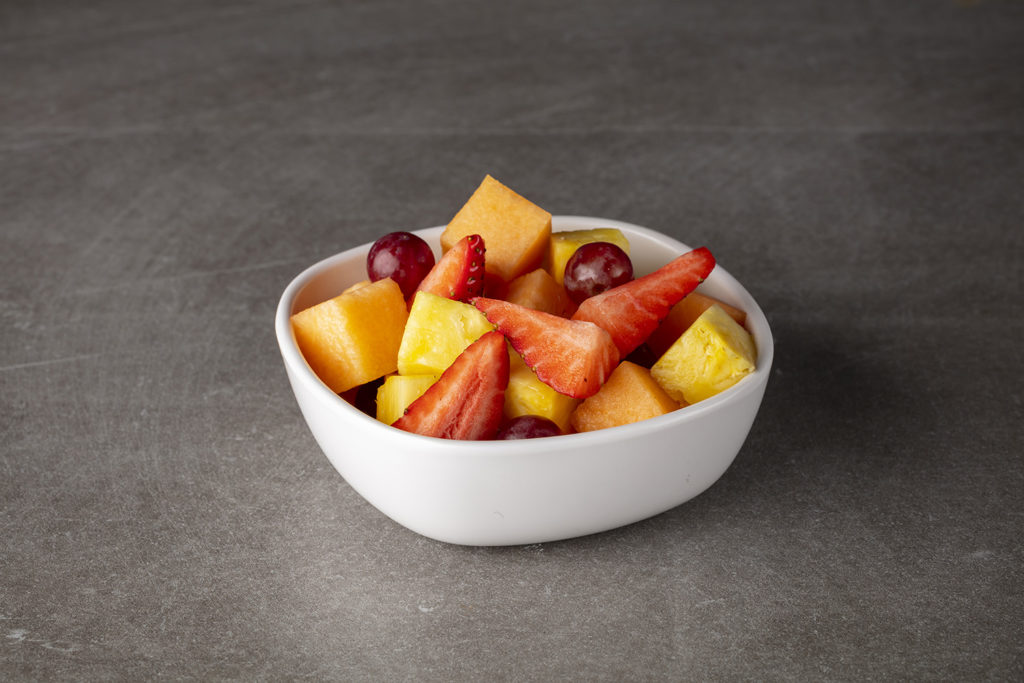 Substitute Fruit for Salad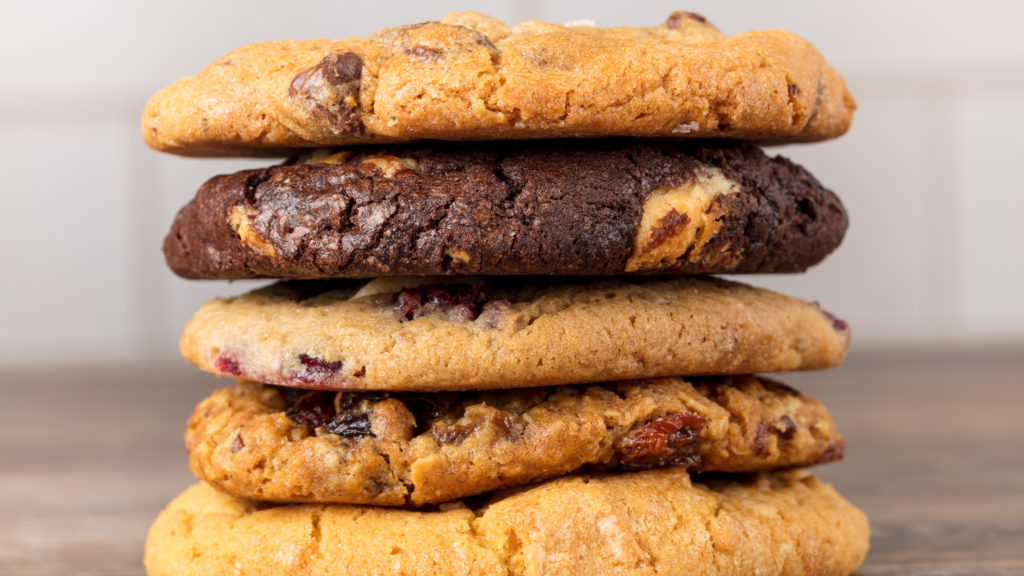 Assorted Chips, Cookies, and Desserts
NUTRITION
It tastes good because it is good. The better the ingredients, the better the meal. Whenever possible, we source our fresh ingredients from local, family-based businesses and pride ourselves on our made-from-scratch cooking techniques. Click on the link below to learn more about how nutritious your meal is.
Nutrition Calculator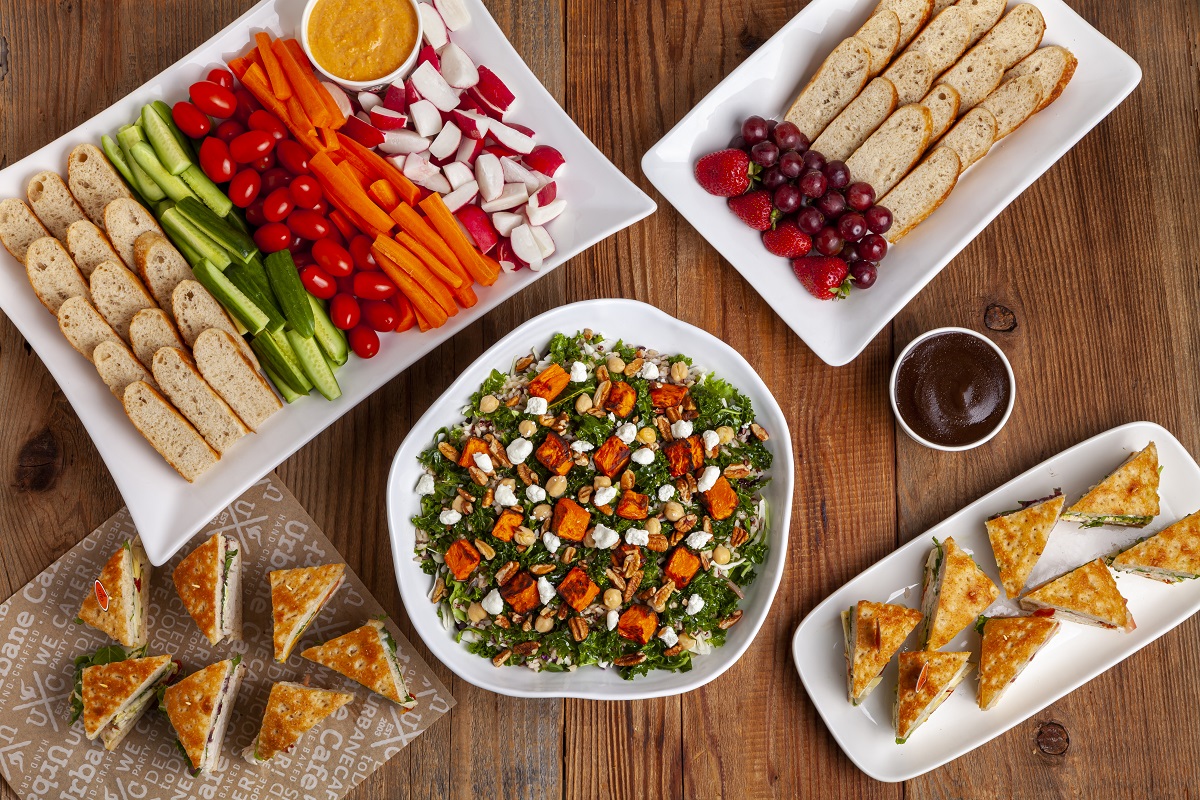 Catering
Looking to feed more than just a few?
We are here for you Monday-Friday 8:30-5:30pm. Give us a call 1-844-644-6814 or order online and we'll take care of all the details.
Place a Catering Order